A collection of modern goods for you and your littles.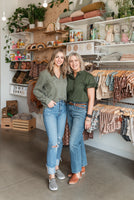 Hello! Welcome to Janes, we are a sweet little shop, located in the East Village of Des Moines, Iowa. This shop is full of things that we hope bring joy, comfort and ease to your life with littles.
Janes is founded and managed by me, Sarah ~Jane~ Hanson, a long time nanny turned shop owner. And most importantly, this little shop wouldn't be possible without the help of my mother Jennifer ~Jane~ and the rest of my family and friends. Thanks for being here! We hope you love it!
If you need any help you can reach me at this email:
sarah@janesdsm.com